Sales & Corporate Presentation Or Training, Coaching & Briefing Applications
As part of our standard branding service, CHP Design provide PowerPoint branding as a presentation template. These are useful in all kinds of situations. However, something a little different is sometimes required to really grab and retain audience attention.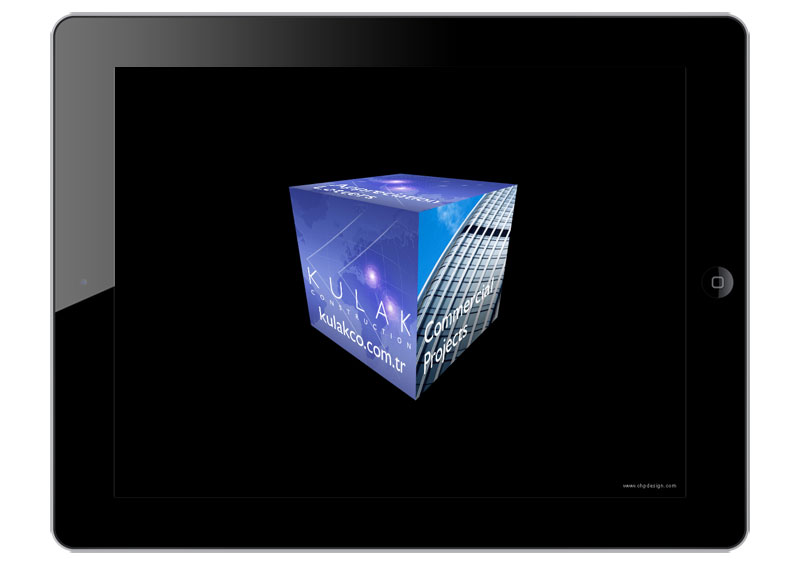 Much more than just PowerPoint branding
CHP Design was originally asked to help with safety debriefings for offshore oil workers. Returning from a two-week North Sea Oil platform shift, a standard PowerPoint presentation would literally send them to sleep.
Content managed, 3d animated cube
CHP designed and built an application for iOs, Android and laptop to help. Working alongside a branded physical promotional device to promote kinisthetic acquisition of information and retain interest. The audience will have the branded physical cube to handle and use during the presentation. The cubes can also be taken away or used as a leave behind.
In the app, the cube works as a top level navigational device giving access to six sections. It rotates in three dimensions as users scroll their finger or mouse across the screen. It animates in the same way as the physical branded cube device, opening out to reveal the chosen section.
The content is served into the application in realtime and managed via a dedicated management system. In this way, content can be tailored for each presentation as required.
Kulak Construction
Kulak are a leading civil engineering company based in Tukey. CHP were asked by Kulak for advice with their Saudi Arabian Civil Engineering sales efforts. They design and build shopping centres, motorways, bridges, apartment blocks, leisure centres etc. With very large scale projects, there is also a high level of detail in presentations. With highly detailed information, any audience's attention can wander and disconnect. CHP proposed use of the 3d cube application, which has proved highly successful.
Please contact us for a demonstration.